Welcome!
Come to our Group Meetings, Mondays at 5pm on Zoom until further notice!
Our group focuses in solid-state inorganic chemistry ranging from Exploratory synthesis in Chalcogenides and Multianionic Materials, Thermoelectric applications, hard radiation detectors, and hybrid perovskite materials discovery and solar cells. Feel free to look around the website and enjoy our research.
Congratulations to the four recent alumni that have accepted positions at major universities! Be on the lookout for their work as they each start their own research groups across the globe. Dr. Kyle McCall at University of Texas Dallas. Dr. James Hodges at Penn State University. Dr. Yannis Spanopoulos at University of South Florida. Dr. Lingling Mao at SUSTech in Shenzhen.
Yihui He's work using CsPbBr3 as a gamma ray detector was recently published which you can read about in nature photonics! See what some of the science writers are saying about the paper in Phys.org, ScienMag and Eurekalert!
Daniel Chica's work on LiInP2Se6 was just published in nature in 2020 demonstrates a well performing semiconductor neutron detector. Learn what people are saying about it in the news at C&EN, Semiconductor Online, The Engineer, Xinhua News, Popular Mechanics and Eurekalert!
Professor Mercouri Kanatzidis received the 2019 DOE Ten at Ten Scientific Ideas Award for the first demonstration of all-solid-state solar cells using halide perovskite materials. Learn more here.
Come look at our paper on the ultrahigh power factor SnSe system published in Science here!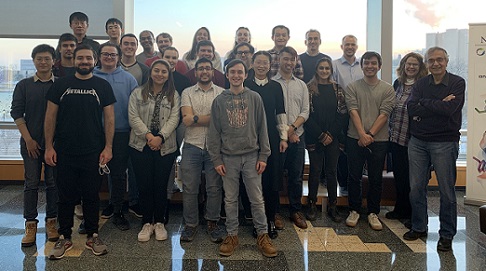 Meet the group at Argonne
Professor Mercouri Kanatzidis honored for his contributions to Inorganic Chemistry for over 30 years! Click here Also, check out another article


Professor Mercouri Kanatzidis is awarded the 2016 Samson Prime Ministerís Prize for Innovation in Alternative Fuels for Transportation. Check out the announcement here and photos of the event here


You can find old group photos on the alumni page found here.
Want to know how to make alkali metal chalcogenides like potassium sulfide or sodium selenide? Check out our how to video
here
!