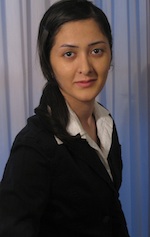 Zohreh H.Fard, Ph.D.
Post Doc, Northwestern University
Kanatzidis Group 2011-13
Exploratory Synthesis (Chalcogenides)
Current Position:
Product Specialist, Natural Gas Engine Oils
Petro-Canada Lubricants
E-Mail: zohreh.hassanzadeh@gmail.com


B.Sc., Chemistry
Tabriz University
Iran

M.Sc., Chemistry
Chemistry & Chemical Engineering
Research Center of Iran
Iran

Ph.D., Chemistry
Phillipps University of Marburg
Germany
Research
I joined professor Kanatzidis group on January 2011. My project was focused on synthesis and characterization of layered metal chalcogenides. We were especially interested in the application of such materials in environmental remediation such as purification of water by the removal of heavy metal and precious metal ions.