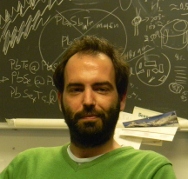 Thomas Chasapis, Ph.D.
Post-Doc, Northwestern University
Kanatzidis Group, Thermoelectrics
Phone: x 7-6135
E-Mail: t-chasapis@northwestern.edu
Office: K254

B.S., Physics
Aristotle University of Thessaloniki 2001
Greece

M.S., Physics & Technology of Materials
Aristotle University of Thessaloniki 2005
Greece

Ph.D., Solid State Physics
Aristotle University of Thessaloniki 2009
Research
I joined the Kanatzidis Group as a post doctoral research fellow on February 2012. My project involves the synthesis and characterization of new chalcogenide and intermetallic compounds for possible energy conversion, topoligcal insulator, superconductivity, nonlinear optical and radiation detector applications.
My research in A.U.Th. was mainly focused on the structural characterization of multicomponent chalcogenides and of Magnesium based compounds using FTIR – UV/VIS in combination with methods of Thermal Analysis, Scanning Electron Microscopy, and X-Ray Diffraction Analysis.