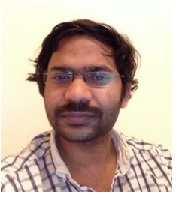 Subrahmanyam K S, Ph.D.
Post Doc, Northwestern University
Kanatzidis Group, Mesoporous Materials
Phone: x 7-6135
E-Mail: surya.kota@northwestern.edu
Office: K256


M.S., Chemistry
University of Hyderabad 2006
Hyderabad, INDIA

M.S., (Engg. by research)
Jawaharlal Nehru Centre for
Advanced Scientific Research 2008
Bangalore, INDIA

Ph. D., Chemistry
JNCASR, 2012
Bangalore, INDIA
Research
I joined Professor Mercouri's group as a Post-doctoral Fellow in April 2012. During my PhD I worked on graphene synthesis and studied its properties. Here my post-doctoral project focuses on chalcogels.