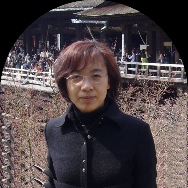 Shulan Ma, Ph.D.
Visiting Professor, Northwestern University
Kanatzidis Group, Layered Double Hydroxides
Phone: x 7-6135
E-Mail: shulan.ma@northwestern.edu
Email: mashulan@bnu.edu.cn
Office: K254

M.T., Chemical Engineering
University of Chemical Technology 1996

Ph.D., Inorganic Chemistry
Beijing Normal University2003

Associate Professor, College of Chemistry
Beijing Normal University
Tel: +86-10-58807524; Fax: +86-10-58802075



Research
I joined professor Kanatzidis group as a visiting professor in April 2012. My project is focused on the synthesis, structure and characterization of new layered compounds such as layered double hydroxides (LDHs) composites intercalated with polysulfides, and studied heavy metal removal or catalysis properties of the formed composites. The theme of my doctoral dissertation was "Syntheses, structures and properties of the N-substituded diaza- and tetraazacrown ether ligands and their complexes". I focused my study on the nanocomposites of the inorganic layered compounds (LDHs) or layered rare-earth hydroxides (LRHs) and organic macrocyclic compounds such as crown ethers, thiacalixarene and beta–CDs. We found some interesting structures such as staging and novel properties.