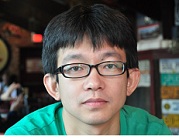 Shichao Wang, Ph.D.
Post-Doc, Northwestern University
Kanatzidis Group, Gamma Ray Detection
Phone: x 7-6335
E-Mail: shichao-wang@northwestern.edu
Office: GG13

B.E. , Chemical Eng. and Technology, 2004
Hebei University of Technology

M.S., Physical Chemistry
Fujian Institute of Research 2007
Chinese Academy of Science

Ph.D., Condensed Matter Physics
Fujian Institute of Research 2010
Chinese Academy of Science
Research
I joined professor Kanatzidis group on April 2011. My project is focused on exploration, synthesis, structure and characterization of new iron-based high temperature superconductors. I am also involved in development of synthesis and crystal growth of radiation detector materials.