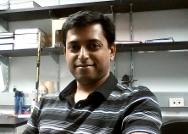 Raj Sankar Cheriyedath, Ph.D.
Scientist Fellow
National Institute for Interdisciplinary Science and Technology
(NIIST) (Council for Scientific and Industrial Research)
Trivandrum, Kerala, India
E-Mail: raj.cheriyedath@northwestern.edu

M.Sc., Applied Chemistry
University of Calicut
Kerala, India

Ph.D., Chemistry
National Chemical Laboratory
Pune, India

Post Doc.
University of Waterloo
Waterloo, ON, Canada

Research
I joined Kanatzidis research group in March 2013. My current research interests are heavy metal chalcogenides and chalcohalides; their synthesis and evaluation of properties for radiation detector applications. This includes exploratory synthesis to find new materials, their structural characterization and growth of large single crystals for physical property studies.