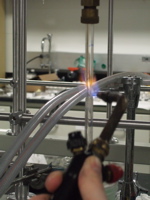 Qichun Zhang, Ph.D.
Assistant Professor
Nanyang Technical University
School of Materials Science and Engineering
E-Mail: QCZHANG@ntu.edu.sg



B.S., Chemistry
Nanjing University 1992
Nanjing, P.R. China

M.S., Organic Chemistry
University of California, Los Angeles 2003

Ph. D., Inorganic Chemistry
University of California, Riverside 2007

Research
I joined Professor Kanatzidis' group as a postdoctoral research associate on Oct 2007. I am currently working on synthesis and characterization of new thermoelectric materials and their practical applications. I am also using metal-zintl anion as starting materials to produce crystalline chalcogenide-based materials for non-linear optic (NLO), photovoltaics, and thermoelectric applications.

During Ph.D. studies at University of California, Riverside, I worked on the synthesis and assembly of semiconducting nanoclusters (Cd8S(SPh)162-, Cd17S4(SPh)282- , Cd32S14(SPh)404-, Cd54S32(Ph)48(H2O)44-) into frameworks under the supervision of Professor Pingyun Feng.