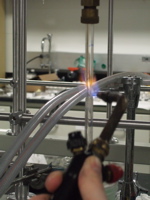 Links
Fei Han, Ph.D.
Post Doc, Argonne National Lab
Kanatzidis Group, Crystal Growth
Phone:
E-Mail: fhan@anl.gov
Office: 223 A-110


B.S., Materials Physics
University of Science and
Technology of China 2007

Ph. D., Condensed Matter Physics
Institute of Physics
Chinese Academy of Sciences, 2012
Research
I joined the Kanatzidis Group at Argonne National Laboratory in June 2012. I am currently researching the exploratory synthesis of new superconductors including unconventional superconductors, Mott insulators, topological insulators and other strongly correlated materials.