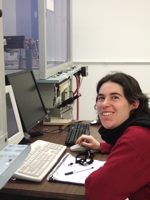 Aurélie Guéguen, Ph.D.
Postdoc
ICMPE-CMTR (CNRS UMR 7182)
2-8 rue Henri Dunant
94320 Thiais France
Phone number: 33 1 49781214
email: gueguen@glvt-cnrs.fr or
aureliegueguen@hotmail.com


B.S., Engineering
I.S.I.T.V., France 2001

Ph.D., Chemistry
Michigan State University 2008
Research
I joined the group in spring 2004 at Michigan Sate University. I received a degree in engineering (materials science) in 2001 from I.S.I.T.V. (Institut des Sciences de l&apostrophe;Ingénieur de Toulon et du Var) in France.
My research focuses on the investigation of new thermoelectric materials based on narrow-bad gap semiconductors. One project consists on the exploratory synthesis of complex chalcogenide compounds containing alkali metals. Another system of interest involves nanostructured PbTe-based bulk materials.