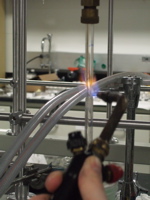 Abhishek Banerjee, Ph.D.
Assistant Professor,
Visvesvaraya National Institute of Technology
Nagpur, India, 2017

Former Post-Doc, Northwestern University
Kanatzidis Group, Exploratory
Phone: x 7-6135
E-Mail: abhishek.banerjee@northwestern.edu
Office: K256

B.Sc., St. Xavier's College
Calcutta, India, 2004


M.S., Indian Institute of Science
Bangalore, India, 2007

Ph.D., Jacobs University
Bremen, Germany, 2011
Research
I joined the Kanatzidis group in June, 2012. My doctoral research focused on the synthesis and properties of inorganic metal-oxide clusters, called Polyoxometalates. In this group my research mainly focuses on the synthesis and catalytic activity of chalcogenide-based aerogels or chalcogels.