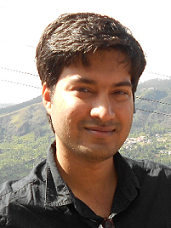 Sumanta Sarkar, Ph.D.
Post Doc, Northwestern University
Kanatzidis Group, Thermoelectrics
Phone: x 7-6135
E-Mail: sumanta.sarkar@northwestern.edu
Office: K256


B.Sc., Krishnath College,
Berhampore, India, 2008

M.Sc., University of Kalyani
Kalyani, India, 2010

Ph.D., JNCASR
Bangalore, India, 2016
Research
I joined the Kanatzidis group in February, 2016. My research is mainly focused on metal chalcogenide materials for thermoelectric and photovoltaic applications. Prior to this, I was a doctoral student at JNCASR, India where I studied structure and properties of intermetallic compounds.