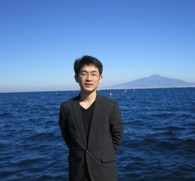 Jian Liu, Ph.D.
Post Doc, Northwestern University
Kanatzidis Group, Porous Materials
Phone: x 7-6135
E-Mail: jianliu@northwestern.edu
Office: K254


B.S., Chemistry
Shandong University,
Jiínan, China 2006

Ph. D., Physical Chemistry
Chinese Academy of Sciences,
Beijing, China 2011

Alexander von Humboldt postdoc fellowship
Max Planck Institute of Colloids and Interfaces,
Potsdam, Germany 2012-2014
Research
I joined Professor Kanatzidis group in August 2014 as a postdoc. My research involves the synthesis and characterization of new chalcogenide compounds and porous materials applications for possible energy conversion. My previous research was mainly based on the bioinspired construction of hierarchically nanostructured materials for photocatalytic and photoenzymatic applications.