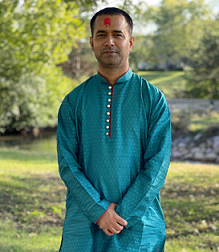 Indra Raj Pandey, Ph.D.
Post Doc, Northwestern University
Kanatzidis Group, Crystal Growth/Detectors
Phone: x 7-6135
E-Mail: indra.pandey@northwestern.edu
Office: K259

B.S., Physics
Tri-Chandra College
Kathmandu, Nepal 2006

M.Sc. Physics
Sikkim Manipal University
Sikkim, India, 2009

Ph.D. Physics
Kyungpook National University
Daegu, South Korea, 2019

Post Doc, Physics
Institute for Basic Science
Daejeon, South Korea, 2019-2021
Research
I joined the Kanatzidis Group in July 2021 as a post doc fellow. My research in this group involves the synthesis, growth, and characterization of materials for hard radiation detection. In my Ph.D., I have worked on synthesis of oxide material and single crystal growth with Czochralski technique. I characterized the grown crystal at room and low temperature for the application of radiation detection and neutrino-less double beta decay search experiment.