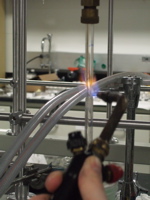 Haijie Chen, Ph.D.
Post Doc, Northwestern University
Kanatzidis Group, Crystal Growth
Phone: x 7-6335
E-Mail: haijie.chen@northwestern.edu
Office: GG19


B.S., Materials Physics
Nanjing University, 2009

Ph. D., Materials Physics and Chemistry
Shanghai Institute of Ceramics,
Chinese Academy of Sciences, 2014
Research
I joined the Kanatzidis Group at Northwestern University in January 2015 as a postdoctor. I am currently researching the exploratory synthesis of new superconductors. I also carry out the exploration of new compounds and investigate corresponding crystal structures, transport properties, magnetism, etc.