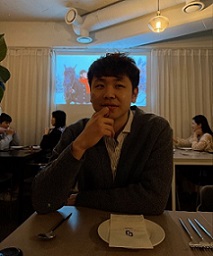 Daehan Kim, Ph.D.
Postdoctoral Fellow, Northwestern University
Kanatzidis Group, Halide Perovskites
Phone: x 7-6135
E-Mail: daehan.kim@northwestern.edu
Office: K259

BS. Materials Science
and Engineering (MSE)
Korea Advanced Institute
of Science and Technology (KAIST)
Daejeon, Korea, 2015

MS. MSE
KAIST
Daejeon, Korea, 2017

PhD. MSE
KAIST
Daejeon, Korea, 2021
Research
I joined Kanatzidis Group in March 2022 as a visiting scholar. My research interests are synthesis of novel halide perovskite materials and their potential application to optoelectronic devices such as solar cell. In the past, I worked on stability of halide perovskites and wide-bandgap perovskites for tandem solar cells. In free time, I enjoyed playing/watching baseball and basketball.