Welcome!
Come to our Group Meetings, Mondays at 7pm in K259!
Our group is focused in solid-state inorganic chemistry from Exploratory synthesis in Chalcogenide and Intermetallic Materials, Thermoelectric applications and porous semiconductors. Feel free to look around the website and enjoy our research.
Check out our new world record high efficiency thermoelectric material published in Nature and described on our research page, and our environmentaly friendly solid state perovskite solar cell in Nature Photonics!
Check out our nitrogen fixation photocatalyst based on a Fe/Mo/S-chalcogel. It works using visible light at room temperature, ambient pressure and in water! The world's first biomimetic functional "photo-nitrogenase" material.
Meet the group at Argonne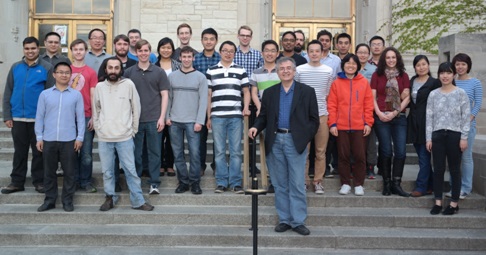 Congrats to Mercouri for winning the Eni Award for Renewable Energy!
See the announcement
here
,
photos of the event
here
, and a video of the event
here
.